The Gary A. Webb Landscape firm is a full service residential and commercial landscape installation company. We can install all types of outdoor hardscape and softscape areas, from a large hedge or small azalea garden, to a stone patio with retaining wall seating, to a single shade tree. We design, choose materials, personally select plant materials and trees from our suppliers, and provide professional installation to ensure years of enjoyment. All of our work is guaranteed and warranted.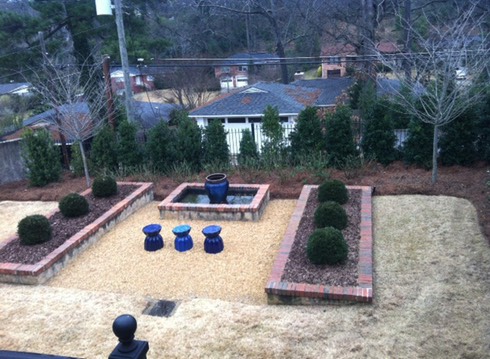 Since Gary is a horticulturist, all of the plant materials selected are not only first quality, but have been selected for specific purposes for specific sites. Many factors are taken into account when choosing elements for a landscape installation such as the overall shape of the area, the availability of water, soil composition, amount of direct sunlight per day, the anticipated mature size of the plants, and growing seasons. Even seeding and sodding depend on an analysis of the conditions for the varieties selected.
Some of our landscape installation services include:
Color beds for annuals

Decks and patios

Large scale plantings

Water management and drainage through swales and rock installations

Ground preparation and seeding and/or sodding

Retaining walls

Re-grading and cut and fill

Sidewalks and pathways

Fire pits or outdoor fireplaces

Water features

Rock gardens

Raised bed plantings

Tree planting

Fences and walls
See our page on design services and landscape construction for ideas how Gary Webb can help you achieve the landscape you want.