We are here to make sure that your landscape continues looking beautiful as it grows and matures. We offer complete landscape maintenance services to ensure that your yard or business site has healthy plants and a beautiful appearance.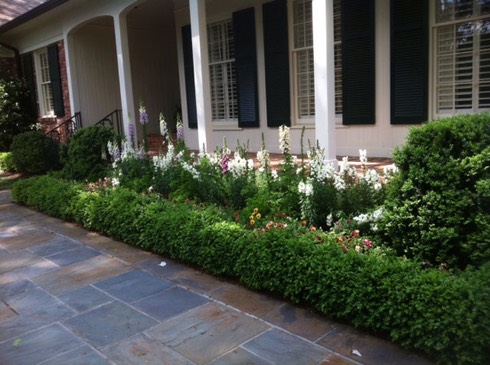 We will meet with you, review your landscape and budget, and devise a plan to meet your needs. Some of the services we provide include:
Lawn care:

We provide full services to make sure your lawn stays green and beautiful all season. We mow on your schedule, remove yard debris, fertilize your lawn based on season and type of grass, edge landscape and paved areas, and apply weed control as needed. When winter has taken a toll, we can reseed or remove damaged areas and put in new sod as you wish. We also aerate to decompress the soil, giving roots room to grow and keeping your lawn healthy.

Tree and shrub care:

Pruning and trimming landscape plants and trees improves their health and lifespan. We evaluate your shrubs and trees for invasive insects or fungus, remove damaged or diseased limbs and branches, treat for pests, and trim to reshape your plants. Many flowering shrubs need to be trimmed at specific times. We know the appropriate times to prune and will make sure your shrubs are ready to produce a new and abundant flowering next season.

Tree trimming and topping:

We will also trim trees to remove limbs and branches that are overhanging or touching your home, providing a bridge for damaging insects to invade. We will remove suckers and false leaders to keep your trees growing in the right direction. We will also perform selective topping to keep branches from interfering with overhead lines.

Mulching:

Another way to keep your plantings healthy is to mulch them seasonally. This not only improves the look of your yard, it helps keep moisture in the ground, discourages weeds, and provides nutrients to your plantings. There are many types of mulch, so ask us about what is right for your yard or site.

Seasonal cleanup:

Even well manicured trees and shrubs produce debris, and in the fall and spring more extensive cleanups will make your landscape shine. We will work with your schedule to remove all the debris, including leaves, branches, and dead annuals, and clean up perennials that leave dead stalks and leaves such as day lilies, hostas, and others. You can enjoy your yard in winter when it's clean and ready for a new bloom season.

Flowers and color beds:

When we plan a landscape we like to include a selection of perennials that will provide permanent seasonal color and greenery. But there is nothing like annuals to provide a burst of color that lasts throughout the blooming season. From the earliest bloomers in spring to the ones that can last through much cooler weather in the fall, annuals are a joyful addition to your yard or site. We will choose plants to fit your color preferences, the degree of sun or shade available, and to complement your other plants. It's even possible to have some that last through mild winters. Ask us about color beds for your yard or site.

Irrigation system maintenance:

We will inspect your irrigation system, clean or replace heads that have clogged or been damaged, replace any damaged piping, review and adjust your control system, and make sure your system is scheduled correctly and operating at peak efficiency. Call us for all your irrigation system needs.
Call us to set up a maintenance plan. We can do as little or as much as your needs and budget allow. We have the knowledge and training to do the best work possible for you, and all of our work is guaranteed.