With our wonderful central Alabama climate, there are opportunities to be outdoors and enjoy your yard throughout most of the year. With the addition of windscreens such as a dense evergreen planting and hardscape items such as outdoor fire pits or outdoor fireplaces, even winter can be outdoor time. For summer enjoyment, shade trees, pergolas, and outdoor lighting for mild evenings can add time spent outdoors enjoying your landscape.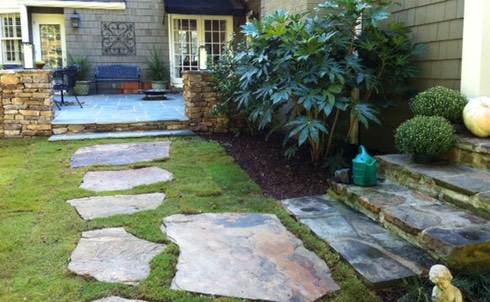 We would like to help you make the most of your property. Backyard living with family and friends brings you together. We can help you create the outdoor living spaces that will invite you out.
We can install any type of outdoor space:
Decks and patios:

Level hard surface areas provide space for dining, sunning, relaxing in outdoor furniture, and cooking. Decks can be constructed from wood, composite materials, or metal decking. Talk with us about the options. We like to install patios that have a human scale and that means using materials that fit naturally into the landscape. We can install brick pavers, cobblestones, flagstones, slate or other natural materials.

Fences:

Fences can provide screening, can make smaller areas cozy, can provide wind protection, and can add beauty to the area. Some fences such as picket or split rail are used to provide a charming background for plant materials. We install wood fences in many styles. We can also install brick or stacked stone uprights or full fences. Pierced brick or basket weave brick walls in smaller spaces are beautiful additions to your landscape.

Walkways:

Adding walkways to your yard and planted areas, especially with some outdoor lighting, make those areas more accessible and more enjoyable. We have many options for walkways, including flagstone, slate, pavers, special types of gravel, various edgings, and combinations of these materials.

Retaining walls and new level areas:

Consider what you would like to be able to do in your yard, and if the topography is making it difficult, talk with us about adding a level area for your needs. Do children need a play space? Do you wish you had some on site guest parking other than your driveway? Do you wish you had some level space to play ball or other lawn games? We can regrade part of your site and install retaining walls to cut and fill out a level space. The retaining wall then becomes part of your landscape.

Japanese or rock garden:

We like to use natural materials, and rocks in various sizes can make a planted area more beautiful. Rock gardens can be used to stabilize a slope with trailing plantings and flowers. A full rock and pebble garden in a small area with stepping stones makes a contemplation space that adds character and the calm quality of a japanese garden. It's a great inset for areas where grass is struggling. Ask us for ideas.

Fire pits and fireplaces:

To extend your outdoor season, a fire pit or outdoor fireplace is a wonderful addition. On cool days, especially evenings, the fire makes the outdoors usable and a family attraction.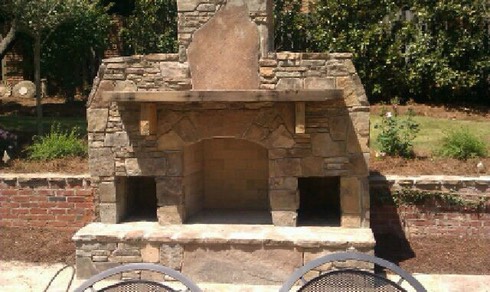 Call us to create new outdoor spaces that will make your yard more usable, and make outdoor living more possible.